JOHANN BERTHELSEN (1883-1972)
Johann Berthelsen was born in Copenhagen in 1883, the 7th of seven sons, to Conrad and Dorothea Karen Berthelsen. The parents moved in artistic and professional circles. His father was a tenor with the Royal Opera and his mother was a nurse affiliated with a prominent physician. A year before Johann's birth, his parents visited the United States, but the marriage was in trouble and they returned to Denmark to divorce. In 1890, his mother brought the children to America, settling in Manistee, Michigan, with her sister's family. They would eventually live in Manitowoc, Wisconsin, a city on the shore of Lake Michigan.
As a teenager, Johann was actively involved in choirs and singing groups. And always, he loved to draw and paint.
Though obviously intelligent and curious, he was too impatient to take well to schoolwork and never went beyond the 5th grade. It was not uncommon for boys to start working at an early age, and Johann tried several careers with mixed results.
Although he worked at several trades, Johann's mind and heart were always with the arts. As his voice matured, his always pleasant sound evolved into a rich and powerful baritone. Having always wanted to be an actor, at the age of 18, the young man moved to Chicago where he reconnected with an old friend who was studying voice at the Chicago Musical College. When he mentioned his theatrical ambitions, his friend laughed. "With your voice, you should be studying singing," he said. Eventually, he convinced Johann to audition at the Chicago Musical College, owned and operated by Broadway producers, Flo and Willie Ziegfeld. Willie auditioned young Berthelsen and, on the spot, offered him a full scholarship.
He was awarded the school's Gold Medal on two occasions, and after graduation he earned a job as the lead baritone with the newly formed Standard Opera Company which was owned by the Schuberts.
For the next five years, Johann Berthelsen enjoyed a rich and varied career, touring the U.S. and Canada in operas, concerts, Gilbert & Sullivan, and operettas.
Despite considerable success, the grueling pace of life on the road was difficult, and in 1910 he joined the voice faculty at Chicago Musical College. Now, in addition to teaching and performing, he had more time to pursue his other personal interests, especially painting. He became friends with the artist, Svend Svendsen, a noted landscape painter. Svendsen's snow scenes especially intrigued him. Though Berthelsen never formally studied with him, Svendsen would become a major influence in his choice of mood and treatment of light and shadow. In 1913, at the age of 30, he became the youngest-ever head of the voice department at the Indianapolis Conservatory of Music.
In Indianapolis, he began a friendship with the painter, Wayman Adams. A native of Muncie, Indiana, Adams had studied with William Merritt Chase and Robert Henri in Spain and Italy and had already established a reputation as a portraitist. Adams and Berthelsen were to remain best friends for the remainder of their lives. Adams would paint many significant portraits of Berthelsen including a life-sized image of his friend preparing to go on stage.
Although he kept a busy schedule producing student performances and personally appearing as a concert artist and actor, Berthelsen now had more free time to devote to his other interests including painting.
He had a voracious appetite for knowledge in every field and, on one occasion, he agreed to appear on stage in a minor role so that he could observe the great tenor, Enrico Caruso. Even years later, he relished the experience and said that Caruso was, in every way, everything a singer could possibly be. Likewise, he spent hours discussing art with Adams and his other friends.
In 1920, seeking to advance their careers, Berthelsen and Adams moved to New York, where both achieved rapid success. From 1920 through the late '50s , Wayman Adams painted some of his best-known works. Johann Berthelsen established a private school of singing instruction at the Rodin Studios and attracted a distinguished following, including Howard Marsh who created the lead in "The Student Prince," and Robert Halliday who starred in the original production of Romberg's "The Desert Song."
As a hobby, he created pastels and watercolors featuring New York scenes. They were exhibited to excellent reviews, and in 1926, he was elected to membership in the American Watercolor Society.
Johann Berthelsen
His most significant pupil was a singer, dancer and entertainer named Helenya Kaschewski. They fell in love and were married on March 15, 1928. They had three children – a daughter, Karen, and two sons, John and Lee.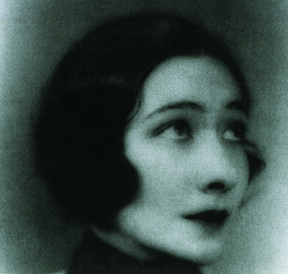 Established in New York artistic musical and theatrical circles, his professional reputation grew. Financially comfortable, fulfilled and happy, the family was a part of the vital New York arts community.
Johann Berthelsen
In 1929, the heady prosperity of the Roaring '20s dissolved in the Stock Market crash, and the arts were among the hardest hit sectors.
With many Broadway theaters shuttered and the Metropolitan Opera cutting salaries, Johann's pupils disappeared. One by one, the family's possessions melted away, and the family began an odyssey through a series of ever-smaller apartments. He described his plight to a fellow artist who responded, "If you could do in oil what you do in pastel, you'll be a great success." With what little money is left, he purchased art supplies and canvases and began to refine his technique in oil painting. He painted quickly and prolifically, his work bringing from $1 to $5 from some of the leading galleries. The proceeds went to buy food and milk. But as fast as he worked, it was sometimes not enough.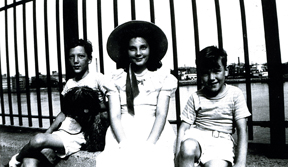 Of the many subjects he painted, the one that he would become most identified with was the city itself. The New York snow scenes – his most famous and popular works – burst with movement. Cars, trucks, taxis and people seem to rejoice in the snow that turns the city into a wonderland. He was able to maintain the pace of creation and the level of quality with a draftsman's precision, an unerring eye, and deep feeling. Though he was exclusively self taught he totally owned his craft and technique.
As his paintings become more visible and more popular, his reputation increased. His New York scenes were acquired by, among others, William Randolph Hearst and Richard Berlin, the president of Hearst's magazine empire, who purchased six paintings. In the mid-1930s, Berthelsen became involved in several New Deal art projects. By 1940, his reputation had grown to the point where he was asked to join The Lecture Bureau of the Columbia Broadcasting System.
In August of 1942, the family moved to a small cottage in rural New Milford, Connecticut. The surrounding
fields and mountains became the subject of many of Johann's landscape paintings.
With the end of the Second World War, the Depression finally ceased and in the first blush of post-war prosperity, the public again had the time and money to devote to the arts. As more prominent personalities began to collect his work, the demand for Berthelsen's paintings increased. The demand was such that, in 1950, the family returned to live in New York City. Throughout the next decade, increased demand enabled them to return to a more comfortable standard of living.
The 1960s proved to be an especially satisfying time for Johann and Helenya, as the children graduated from college and moved on to begin their own adult lives. Financial pressures lessened and, with his paintings commanding better prices, the couple contemplated a more relaxing lifestyle. They moved to an apartment at Sutton Place and later to Greenwich, Connecticut.
In 1971, while in Manhattan visiting several galleries, Johann was struck by a hit-and-run driver. Although there were no broken bones, the shock to his system brought about a rapid physical decline. Over the next year, he suffered severe skeletal pain and ultimately became bedridden. Even at the end, he expressed himself through art, and his last painting – a Central Park spring scene – was completed with the paintbrush tied to his hand.
He passed away on Easter Sunday, 1972. Following a family service, his ashes were scattered over his beloved Central Park and Manhattan. Today, in Central Park near the very spot where he painted one of his favorite scenes, a memorial park bench is dedicated to his memory.
Thanks to his extensive artistic legacy, his reputation has grown in the years since his death. His paintings hang in museums, universities, institutions, and private collections throughout the country and around the world.
In 2009, through the efforts of his son, Lee, and others interested in his work, The Johann Berthelsen Conservancy, LLC, was created. Among its stated purposes and goals are the celebration of his life and work, the promotion of exhibits of his art, the assembly of a directory of his works and their locations, the publication of information regarding works currently for sale, and the establishment of an authentication service for museums, galleries, auction houses and collectors. In so doing, we hope to share our enjoyment of Johann Berthelsen's work with an ever-increasing public throughout the world.
The Salmagundi Club — A Fond Remembrance
"Although my father never had any formal training in art, he relished the company of other artists and learned much from their comments and observations. His lifelong friendship with Wayman Adams is evidence of the dedication that both felt to their chosen craft.
"One of my father's favorite haunts that figured prominently in his development as an artist was the Salmagundi Club at 5th Avenue and 12th Street. Founded in 1871, the Club was and is a New York institution where artists and art lovers can meet, discuss, critique, and just enjoy each other's company. He joined the club in 1935 as his style was just entering its mature phase. He and Wayman Adams spent many hours at the Club and regularly participated in sponsored functions. Along with the valuable suggestions and guidance he received from his fellow artists, the warmth and encouragement that they provided helped sustain him through the Depression.
"His regard for the Club was such that he presented it with one of his most unique artworks — a pastel completed on both sides of the paper — and he remained a member until his death."
– Lee Berthelsen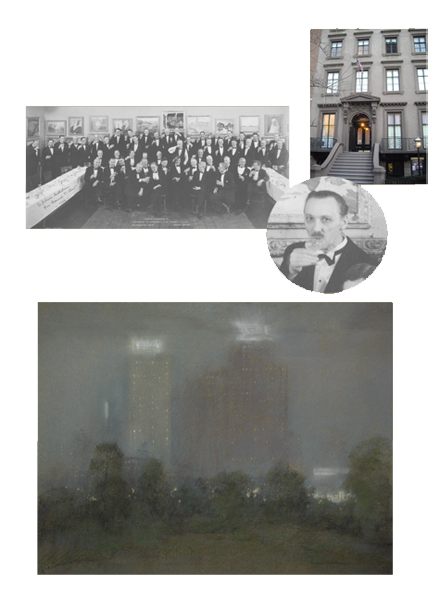 Adapted from "Johann Berthelsen – A Life in the Arts"
Please note:  The Johann Berthelsen Conservancy has produced a DVD ("Johann Berthelsen – A Life in the Arts") which includes a 23-minute documentary on the life of the artist, as well as a sampling of his work in various media.
To obtain a copy, please visit our "Gift Shop" on the website.